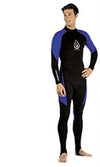 0.5mm Parkway Men's Scuba Titanium Full Wetsuit Snorkeling, Scuba, and Water Sports
This is a
Parkway Scuba 0.5mm Titanium Full Suit.
The suit features:
Parkway's long history of quality products without the RETAIL price!
0.5mm, Titanium-Coated Neoprene
This is one of the TOP, if not the BEST, .5 mm wetsuit on the market!
Black with blue highlights
Look great and be warm at the same time
So comfortable you may never want to take it off
Wear it alone or under any suit
Entire suit is lined with open cell SHARK SKIN Titanium
This lining makes getting in and out of your suit effortless and all but eliminates water entry
The suit will dry in minutes, so putting on a cold damp suit is a thing of the past
This
0.5mm titanium One Piece Wetsuit
is a great divesuit, surf suit, or all around water sport wetsuit with maximum flexiblity. Afford to dive while looking good and being comfortable.
Warning - California Prop 65: Some products on this site can expose you to chemicals including Chloroprene, which is known to the state of California to cause cancer and birth defects or reproductive harm. For more information, go to www.P65Warnings.ca.gov.
FREE SHIPPING
All orders over $50 ship for free. (* some exclusions apply)
BEST PRICE GUARANTEE
150% Price Protection Policy.
30/60/120 Day returns
Satisfaction Guarantee on all of our merchandise.
Our Certified Team
Authorized PADI dive center with expert staff.