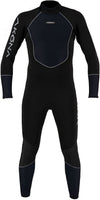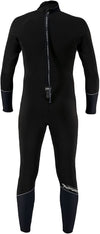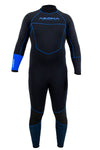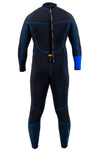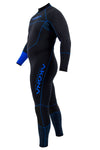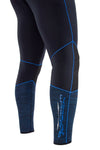 Akona Mens 3mm Quantum Stretch Full Wetsuit (2023) for Scuba Diving
This is the
3mm Akona Mens Full Quantum Stretch Super Stretch Wetsuit
Features:
Environmentally Friendly Neoprene Rubber Design
Non-Petroleum-Based Neoprene
Limestone Over 99.7% Calcium Base Neoprene
Upgraded in Every Sense: Material, Design, Fit, Fashion & Comfort
25% More Stretch than Previous Version
Unique Lamination Process
Nylon-2 Material
Extraordinary Flexibility and Stretch Capabilities
Nylon Weave Capable of Withstanding HarshElements of Diving
Most Comfortable & Best Fitting Wetsuits In-Their-Class
#10 YKK Marine-Grade Brass Zipper Slider
Full Length Delrin Back Zipper
Zipper Pull Leash for Easy Self-Donning/Doffing
Zipper Dam: Skin-Out" for Added Seal and Reduced Water Flushing
Durable Reinforced Laminated Knee Pads
All Seams Glued and Blind Stitched for Strength & Durability
Textured Shoulders: More Secure Fit of BCD, Prevent Piling of Shoulder Surfaces
Available in Multiple Sizes
The Akona Quantum Stretch 3mm Nylon-2 Jumpsuit has textured shoulders for added strength and protection from BCD wear and helps keep the BCD more firmly in place when diving. The suits seams are all glued and blind stitched for warmth while diving and durability. Rear durable YKK #10 brass zipper with pull tab leash allow easy self-donning and doffing. The suits knees are reinforced with a laminated knee pads to protect this high wear area. Suit is available in multiple sizes and is black in color. "
Warning - California Prop 65: Some products on this site can expose you to chemicals including Chloroprene, which is known to the state of California to cause cancer and birth defects or reproductive harm. For more information, go to www.P65Warnings.ca.gov.
FREE SHIPPING
All orders over $50 ship for free. (* some exclusions apply)
BEST PRICE GUARANTEE
150% Price Protection Policy.
30/60/120 Day returns
Satisfaction Guarantee on all of our merchandise.
Our Certified Team
Authorized PADI dive center with expert staff.