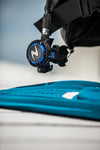 Aqua Lung Helix Regulator 1st and 2nd Stages
This is the Aqua Lung Helix Regulator 1st and 2nd Stages     
  
Features:
Balanced Diaphragm A balanced diaphragm provides superior, consistent performance
Yoke or DIN Available in yoke (3,300psi/232 bar max.) or DIN (4,350psi/300 bar max.)
HP/MP Ports and "T" Shape 2 HP ports (7/16") and 4 MP ports (3/8"), perfectly oriented in a "T" shape for streamlined hose positioning, reduced exhalation effort, and sending bubbles out of your field of view up to EAN 40 Compatible with up to EAN 40 right out of the box
Second Stage
Pneumatically Balanced Pneumatically balanced for smooth, easy breathing
Comfo-Bite Comfo-Bite mouthpiece is soft yet sturdy and reduces jaw fatigue with its unique palate bridge
Venturi Knob Easy control: the in-line ergonomic Venturi knob lets you make precise adjustments, even while wearing gloves
Specs
First Stage Models: Yoke, DIN, Supreme Yoke, Supreme DIN Type of first stage: Balanced diaphragm design Auto-Closure Device (ACD):No Number of HP ports: 2 Number of MP ports: 4 1st Stage Flow Rate: 1450 l/min 1st Stage Weight in DIN: 510 g 1st Stage Weight in Yoke: 700 g Environmental Dry Kit: no First stage exterior: Chrome over marine brass Second Stage Type of second stage: neumatically balanced Controls: Venturi switch Breathing resistance: Preset Mouthpieces: Comfo-Bite Lip shield: no 2nd Stage Weight: 175 g Hose length: 730 mm Overall work of breathing (WOB) scores: Avg. 0.80 joules/liter Nitrox compatible:Yes, to 40% O2 when new, out of the box
When comparing performance with price, Helix is a must have. This mid-range regulator has balanced first and second stages. It represents the DNA of the Aqualung regulators.
Warning - California Prop 65: Some products on this site can expose you to chemicals including Chloroprene, which is known to the state of California to cause cancer and birth defects or reproductive harm. For more information, go to www.P65Warnings.ca.gov.
FREE SHIPPING
All orders over $50 ship for free. (* some exclusions apply)
BEST PRICE GUARANTEE
150% Price Protection Policy.
30/60/120 Day returns
Satisfaction Guarantee on all of our merchandise.
Our Certified Team
Authorized PADI dive center with expert staff.