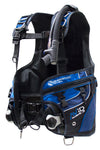 Sherwood Avid 700 CQR-3 Scuba Diving BC/BCD Weight Integrated Buoyancy Compensators
This is the
Sherwood Avid 700 CQR-3 Scuba Diving BC/BCD Weight Integrated Buoyancy Compensators
Features:
New 700 Series Avid BCD
Webbing Allows Smoother Shoulder & Waist Strap Adjustments
Designed Trim Weight Pockets Better Accessibility, Easier Trim Weight Adjustments
Exhaust Valves Provide Refreshing and Contemporary Look
CQR 3 Weight System
Adjustable Shoulder Straps for Better Fit, Neoprene Collar for Comfort
3-D Designed Air Cell that Wraps around the Body for Exceptional Stability
Suspension Strap Promotes Air Cell Movement, Preventing Squeeze
Utility Zippered Side Pockets for Additional Scuba Accessories
Removable and Adjustable Sternum Strap
Rear Lower Vent Valve Releases Unwanted Air, while Descending
Right Shoulder Vent Valve for Convenient Buoyancy Control
Weight Integrated Design: Releasable XS to 3XL 16 lbs. to 26 lbs. (7.26 kg to 11.8kg)
Two Non-Releasing Trim Weight Pockets for Enhanced Stability, 10 lbs. (4.5 kg)
Custom Pocket for Optional Akona Safety Tube
Mini-Pac Cylinder Mounting System Provides Dual Mounts
High Lift in All Sizes: XS to 3XL 20 lbs. to 36 lbs. (9 kg to 16.3 kg)
Sherwood Power Inflator with Cable Activated Pull Dump
3/8 Threaded Low-Pressure Hose with Quick-Disconnect Coupling
The new Avid 700 Series is a robust, full featured BC that provides tremendous comfort, fit and styling. The hydrodynamic jacket style bladder provides a more noticeable comfort than other similar BCs on the market today. With the neoprene padded neck roll, the Avid is the perfect live aboard style BC. After numerous dives the chaffing and irritation you might experience is completely-eliminated. "
Warning - California Prop 65: Some products on this site can expose you to chemicals including Chloroprene, which is known to the state of California to cause cancer and birth defects or reproductive harm. For more information, go to www.P65Warnings.ca.gov.
FREE SHIPPING
All orders over $50 ship for free. (* some exclusions apply)
BEST PRICE GUARANTEE
150% Price Protection Policy.
30/60/120 Day returns
Satisfaction Guarantee on all of our merchandise.
Our Certified Team
Authorized PADI dive center with expert staff.