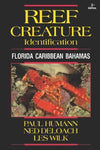 Reef Creature Identification Florida, Caribbean and Bahamas
This is the
Reef Creature Identification Florida, Caribbean and Bahamas
This book has been relied on for almost two decades to identify the weird and wonderful crabs, lobsters, shrimps, jellies, sponges, tunicates and mollusks that inhabit the reefs! Our 2nd edition includes 220 new photos of beautiful shells, outrageously camouflaged crabs, a superb collection of exquisite nudibranchs and the most outrageous octopus ever discovered in the Caribbean! The scientifically updated text, illustrated with more than 660 fascinating photos, is the most comprehensive and beautiful visual ID reference published for marine invertebrates of the Florida Caribbean and Bahamas region.
Warning - California Prop 65: Some products on this site can expose you to chemicals including Chloroprene, which is known to the state of California to cause cancer and birth defects or reproductive harm. For more information, go to www.P65Warnings.ca.gov.
FREE SHIPPING
All orders over $50 ship for free. (* some exclusions apply)
BEST PRICE GUARANTEE
150% Price Protection Policy.
30/60/120 Day returns
Satisfaction Guarantee on all of our merchandise.
Our Certified Team
Authorized PADI dive center with expert staff.