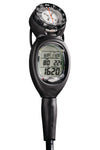 Sherwood Wisdom 3 Pro Bundle, Wisdom 3 Computer, Protective Bag and USB Download Cable
This is the
Sherwood Wisdom 3 Pro Bundle: Wisdom 3 Computer, Protective Bag and USB Download Cable
Features:
Wisdom 3 Computer w/Compass and Quick Disconnect
Expanded memory for dive profiles - access to up to 110 dives.
Deep stop reminder - conforms to latest theories recommending deep stops for dives that exceed 80 feet.
Intuitive 2-button operation.
Air integrated feature - Display air supply remaining (PSI).
Dive Time Remaining feature - calculates and displays dive time remaining based on current consumption rate or available no deco time remaining.
Audible and visual alarms - diver selectable.
DECO warnings and calculations.
Air, Nitrox or Gauge operating modes.
Metric or Imperial units.
PC downloadable.
Dive simulator: Walk yourself through any dive beforehand, and see your limits without getting wet.
Repetitive dive planning: Use information from previous dives to see limitations of your next dive.
Dive log: Stores profiles for later recall and viewing.
Deco calculation: Calculates decompression stops to 60 feet.
Audible and visual alarms.
HydroGlow Screen illumination.
Automatic altitude adjustment to 14,000 feet.
User replaceable battery: Extended life battery and low battery indicator.
Imperial or metric units.


USB Download Cable
Dive-downloaded programs provide a wide array of post-dive analysis and logging
Dive profiles are graphically shown on computer or print outs
These profiles include: depths, decompression status, maximum depth, bottom time, descent/ascent rates, ambient temperatures, surface intervals, and warning points entered during the dive
Works with the Sherwood Wisdom, Wisdom 2, Wisdom 3, and InSight Computer
Standard USB Port to connect to your computer
Works with Windows 98 (2nd edition), ME, NT, 2000, XP, Vista
This PRO set includes the Wisdom 3 computer with compass and Quick Disconnect (QD) hose, the USB download cable for the Wisdom 3, and the Wisdom 3 computer bag. The Wisdom 3 offers enhanced features like full-time access to NDL regardless of ATR. Dive Time Remaining on main screen and when in Dive Mode, you can see your available dive time whether limited by ATR or NDL.
Warning - California Prop 65: Some products on this site can expose you to chemicals including Chloroprene, which is known to the state of California to cause cancer and birth defects or reproductive harm. For more information, go to www.P65Warnings.ca.gov.
FREE SHIPPING
All orders over $50 ship for free. (* some exclusions apply)
BEST PRICE GUARANTEE
150% Price Protection Policy.
30/60/120 Day returns
Satisfaction Guarantee on all of our merchandise.
Our Certified Team
Authorized PADI dive center with expert staff.