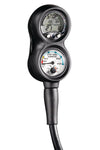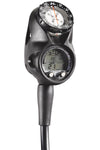 Sherwood Insight Nitrox Scuba Diving Computer ALL OPTIONS
This is the
Sherwood Insight NITROX Computer
. Whether you're 60 feet down or 260 feet down, you want exceptional reliability. But you also want a computer that's easy to read, that makes sense. The Insight gives you both.
Features of this awesome computer include:
Sherwood Quality
Intuitive display popularized by Wisdom model
Air/Nitrox or Gauge operating mode
Expanded memory for dive profiles - access to up to 110 dives
Deep stop reminder - conforms to latest theories recommending deep stops for dives that exceed 80 feet
Digital and bar graph indicators for nitrogen or oxygen limits
Audible and visual alarms - diver selectable
Consumer replaceable battery
PC downloadable profiles
0-5000 psi pressure gauge.
Exceptionally intuitive display
Three screens in Dive Mode - User Selected
Imperial or metric - User Selected
Dive log sample rate - User Selected
Pre-dive planning: Depth - User Selected
Time of Day (dive & surface)
24 HR. or AM/PM time modes
Month and day display
Large 270° nitrogen absorption graph
Maximum depth - 330 FT.
Deco stops to 60 ft.
Safety stop countdown timer
Water or manual activation
Visual warnings and alarms
Automatic altitude adjustment - to 14,000 ft.
Detailed Log: up to 50 dives
Long-life, consumer replaceable battery
HydroGlow illumination (dive & surface)
Replaceable lens protector
PC downloadable

Surface mode:
Date/Time of Day and Surface interval
Mode: Air/Nitrox or Gauge
Bar graph indicating nitrogen status

Log Mode:
Screen 1 indicator
Water temperature - last dive
Mode: Air/Nitrox or Gauge
Previous surface interval time
Deepest depth and dive time - last dive
Bar graphs - nitrogen load end of dive and maximum & maximum ascent rate last dive

Nitrox Mode:
21% to 50% FO2.
Nitrox indicator icon
50% FO2 default - User selected
O2 Sat display (dive & surface)
FO2 display (dive & surface)
This beauty gives you full-function capabilities and is the answer to safer more enjoyable diving for new divers and pros alike.
Warning - California Prop 65: Some products on this site can expose you to chemicals including Chloroprene, which is known to the state of California to cause cancer and birth defects or reproductive harm. For more information, go to www.P65Warnings.ca.gov.
FREE SHIPPING
All orders over $50 ship for free. (* some exclusions apply)
BEST PRICE GUARANTEE
150% Price Protection Policy.
30/60/120 Day returns
Satisfaction Guarantee on all of our merchandise.
Our Certified Team
Authorized PADI dive center with expert staff.