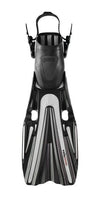 Mares Volo Power High Quality Open Heel Scuba Fins with OPB
This is the
Mares Volo Power High Quality Open Heel Scuba Fins with OPB
Features:
Completely new & redesigned version of the Volo Fin!
New Volo Power Fin - Longer than the original Volo fin
New Volo Power Fin - 25% more efficient than the original Volo fin
Quick release, quick-adjust buckle makes adjusting a snap
OPB (Optimized Pivoting Blade) Fin Technology that ensures the blade is always at an optimal angle during both the up and down stroke
Channel Thrust Technology system for optimal water channeling
Maintaining optimal thrust throughout every phase of the fining stroke minimizes fatigue
Soft anatomical foot pocket, with ribbed insole for an improved fit and a dramatically more efficient fin stroke
High performance with minimal exertion, comfort and light weight. The anatomic foot pocket features interior ribs that improve fit, eliminate foot suction and prevent foot pocket flexing which transmitting more power to the blade. Ideal for women, kids and all divers who want the easiest kicking fin in the market.
Warning - California Prop 65: Some products on this site can expose you to chemicals including Chloroprene, which is known to the state of California to cause cancer and birth defects or reproductive harm. For more information, go to www.P65Warnings.ca.gov.
FREE SHIPPING
All orders over $50 ship for free. (* some exclusions apply)
BEST PRICE GUARANTEE
150% Price Protection Policy.
30/60/120 Day returns
Satisfaction Guarantee on all of our merchandise.
Our Certified Team
Authorized PADI dive center with expert staff.